So have you tried the feather and fan pattern yet? It's definitely a classic knitting pattern worth adding to your knitting repetoire and saving for a rainy day. In fact, I thought it would be nice to use for a sweet little baby bib... Just think, a pretty and soft little ripple of a bib done in white to lay ever so gently over those first few Easter gowns... But I'm afraid i only found one pattern and I'm not a big fan.. So I do believe i'll start tweaking that today so we can add it to the AuPair Project tab. I'm also just about finished with a soft and cuddly Easter Bunny towel that will make tub time a fun time as well.
However, until I get a bib pattern or the towel pattern ready to publish, why not consider using the feather and fan for a sweet little receiving blanket... In cotton maybe, for all those tiny bundles of joy that need just a little something over them while napping...
Or if you don't want to commit to an entire blanket/throw, what about a few of them as washcloths tucked into a basket filled with baby powder and a gentle scented soap... Shampoos and lotions and hopefully a bunny wrap to snuggle with before week's end! (and don't forget mother's day. You know I'm a sucker for a simple pampering packsge filled with handmade soaps and cloths, candles and candy!)
I love to dream of being a "plan ahead" kind of person rather than the last minute knitter than I honestly admit to being! Longing to have a stash of completed projects rather than just the yarn to do "something" with... And yet all the while recognizing that THIS is the day that the Lord has made! I will rejoice and be glad IN it! I am commanded to live in THIS span of time, not regretting my past and suffering a sore neck from always glancing backwards... And not accumulating wrinkles from all the squinting in attempt to constantly see into the tomorrows of my future... But rather lying down in the green pasture of today... The still and quiet waters of the pool of time He has brought to me so that THERE I find HIM. here and now, I find rest and sustenance in His peace.. His Presence.. HIS Perfect plan for me for now!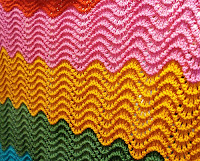 So many of my days may bear resemblance to a feather and fan pattern... The curves and ripples of the unexpected, the steadiness of a few rows of stockinette/predictability, the expanding and contracting of the yarn overs followed by the Knit 2 Togethers of each day ... And yet i know that the best way for me to handle this simply "design" of the day is to continually be grateful... To say Thanks, rather than Why. To lean on Him, rather than my own understanding... The ebb and flow both reflect His leading, His allowance and His love ... His open arms remind me that His plans are good .. O taste and SEE that the Lord is good!
Brothers and sisters, I do not consider myself yet to have taken hold of it. But one thing I do: Forgetting what is behind and straining toward what is ahead, I press on toward the goal to win the prize for which God has called me heavenward in Christ Jesus. Phil 3:13-14